Orthodontics in Liverpool
Orthodontic treatment is not just about teeth that look better, straighter teeth work better too! Poor bite function, faster tooth erosion, and more cavities are just a few issues patients may experience as a result of poorly-aligned teeth. Having their teeth straightened improves function and restores their natural smile.
Types of Orthodontics
The two main types of orthodontic appliances are fixed and removable.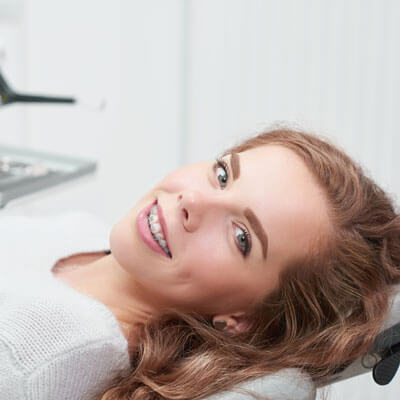 Braces
The conventional fixed orthodontic consists of a metal bracket affixed to the surface of the tooth and connected by wires that slowly pull the teeth into alignment. The average treatment lasts about two years with/without extraction, resulting in a beautiful smile with a corrected bite.
At our practice, we use Damon™ braces, which are considered top of the line in quality. They also have some unique features that make tooth movement more comfortable and maintaining good oral hygiene easier. Traditional braces may be recommended as a better option for complex cases.
Aligners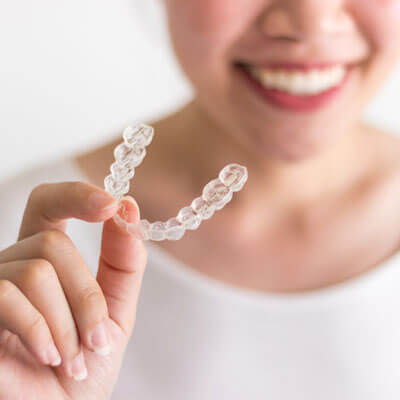 Removable/Clear Aligners are best for mild-to-moderate problems with crowding and alignment. We use the Invisalign system and ClearCorrect in our practice. Your dentist will discuss which option is best for your condition.
The Invisalign system is the most advanced clear aligner system in the world, backed by two decades of innovation. It features three unique elements: SmartTrack material enables faster treatment, SmartStaging technology achieves the best outcomes with more predictability, and SmartForce delivers the precise force needed to achieve the desired movement. Invisalign helps address a wide range of clinical situations.
ClearCorrect aligners are more comfortable and efficient than many other aligners because of their special trimline and material. The transparent, removable aligners straighten your teeth by applying gentle pressure on key points throughout your smile using a series of clear, virtually invisible, computer-designed, custom-molded aligners.
Invisalign and ClearCorrect aligners allow you to eat what you want, brush and floss as usual, and get straighter teeth without anyone knowing you're in treatment.
Children's Orthodontics
The best time to identify dental problems in children is between the ages of 7-9 years old, when their skull and face is more flexible, allowing Dr Andres (Dentist) to move things around easily. When children are little, there's not enough space, so we stimulate the bone to grow, so there's enough room for the teeth to pop out. We typically use expanders to expand the jaw and move bone to accommodate the new teeth.
Book an Appointment
Contact Total Smiles Dental Practice to speak with Dr Andres about options to straighten your smile.
CONTACT US »

Orthodontics Liverpool, Green Valley NSW | (02) 9822 2630